Padlet integration with theSpring
You can log in to Skidmore's licensed Padlet account here, http://skidmorecollege.padlet.org/. You should be able to click Log in with Microsoft to get connected.
Here is a short Padlet demonstration video that provides an overview of the various Padlet features. Note that the sharing features covered in this video will not be necessary if you are sharing via your course site in theSpring.
Instructions for syncing and embedding a padlet with your course site in theSpring

Log in to Padlet and navigate to the padlet you would like to sync to a course site in theSpring. Open your Padlet's SHARE menu
On your Padlet to to your Share > Share/Export/Embed menu. (This should be a padlet you'd like to add to theSpring as an external link.) You should see the optiono to "Add to your LMS as an external tool". Go ahead and click on that. You'll be presented with an option and some information you'll need to copy and later paste.
Use Padlet as a template
Under Behavior, you can change the default setting to "Everyone works on their own copy of this padlet" and your padlet immediately becomes a template. (Make sure you copy and paste your Custom parameters in later steps only after you've changed this setting). That means students will have their own copy to work on; your original padlet stays the same. If you created the original padlet, you'll automatically be added as a contributor to your students' copies so you'll be able to keep tabs on what's happening.
The information on this panel will be used when adding a new External Tool Provider Link to a course.
Now in theSpring, under your course, go to Course Tools > Course Admin > External Learning Tools. Go to Manage External Learning Tools Links > New Link
Enter details of the padlet you'd like to share in your course.
Use the (Secure) Launch/Tool URL in the earlier "Add to LMS" panel as the URL
Under Key/Secret
Add Custom Parameters
You'll have to do some extra work copying the Custom Parameters from the "Add to your LMS" panel to the Custom Parameters section of the External Tool Link form: you'll have to break each line into its components separated by the "=" sign.
For example, if the Custom Parameters in the panel on Padlet look like this:
public_key=beefcafe123
remake=yes
You'll need to add 2 custom parameters to the form: the first custom parameter should be "public_key" and its value "beefcafe123" (similar to the image below), while the second needs to be "remake" and its value "yes".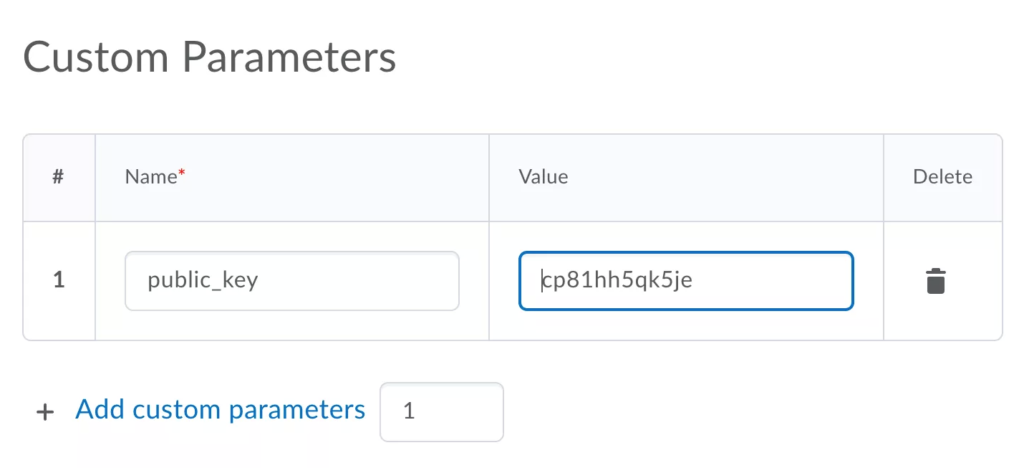 Use the tool provider's security settings
Hit "Save and Close"
Go to your course content module and click Existing Activities > External Learning Tools, and choose Padlet
Office
Our office is on the second floor of the library (Library 222), however, we are currently working remotely.
Hours
Our virtual office hours are M-F: 8:30am – 4:30pm.
The best way to reach us is by email or submitting a Help Desk ticket.